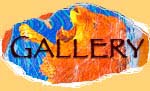 | Invitation | Fruition |
I came to California on December 21, 2006 for a few months of writing and retreat. On my walks around Ojai, our semi-rural town at the base of the Los Pardes Mountains, I began finding pomegranates that had been eaten and hollowed out. They were very beautiful to me and I began to collect them not sure what I'd do with them.
One of my life long tasks is to understand the relationship between my own creative process and the work of being in community. I long for community and have failed so far to find ways to balance sustaining my creative process and satisfy my longing to connect with others.
At first I thought I'd create little environments inside the pomegranates and send them to my friends whom I miss very much when I am here in retreat. My biggest failing seems to never be satisfied where I am.
I did a little research on the pomegranate and learned from Barbara Walker's Women's Dictionary of Symbols & Sacred Objects that the fruit is a symbol for the womb and also considered to be the fruit of the Tree of Knowledge (p. 493).
So, why not invite my friends to interpret, meditate, and engage with these little empty wombs? Empty wombs made me think of crones, women of my age group or older. I am working on a writing project about crones so suddenly a wonderful connection appeared, and then another, one of the first women I thought to invite was my friend Sallie Wolf, another artist/writer, found and natural object lover, and crone. What if a bunch of us took a fruit, made something with it, wrote about it, engaged with the wisdom of the empty womb and brought our results to Sallie's studio/gallery Calypso Moon for the spring event, "What's Blooming on Harrison?" To my delight, Sallie said yes.
Then I spoke to another friend, Wendy, who is 48 and definitely crone-ing but has also just given birth to her first child. I realized my restriction was ageist and that life is so much more complex, juicy and mysterious than we usually give it credit for.
Blessings,
Pat Allen